UNION004 – The Hybrid Series PART 4 / ALTERED LP SAMPLER
on Release
•
Wrzesień 26th
•
has no comments yet!
•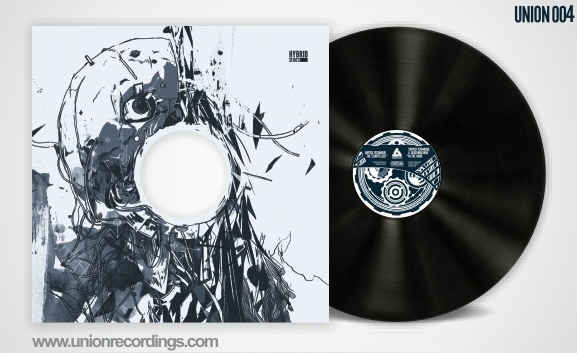 Release date: 26th of September 2011
A: Switch Technique – The Storyteller
Here it goes, brand new release on Union Recordings. After successful past releases label is not giving a rest and brings another piece of highly energetic and heavy oriented music. Side A brings You techstep which reminds of older times in that subgenre, flowing vibe, strong kicks and snares, deep and catchy bassline. Switch Technique's didn't forget to add his trademarks to the atmosphere which results in epic aria and spacious dark sfx along with vocals which are excellent complementing of the whole work. That track was played on the events for more than a year now and didn't lose anything from its flavor and freshness. It's definitely track that will wake up every dancefloor and won't let people left it.
B: Switch Technique & Deathmachine – In The Dark
Flip it over for another crossbreed anthem from unexpected duo Switch Technique and Deathmachine. After their own single releases on Genosha175, they decided to combine their styles on one serious track as we call it. "In The Dark" is definitely one of the hardest and darkest hybrid track You will ever heard. Along with hypnotic distortion kicks and highly addictive synth lines, this one drags You into uncontrolled excitement and unsettling that makes You feel chased by some of the darkest sides of Your own mind. Again, Deathmachine and Switch Technique's quality resulted in something what we can't deny – absolute dancefloor devastation!
UNION004 is also official UNIONLP001 Album Sampler which gives really small piece of what is to come on awaited Switch Technique album ALTERED which due out 11.11.11.




Available on 12″ VINYL as well as a digital MP3 release in all good outlets.
For audio clips, more info and news check out the official UNION Recordings
Facebook
page or
Soundcloud
.
Leave a comment