UNION002 – The Hybrid Series PART 2
on News
•
Luty 6th
•
has no comments yet!
•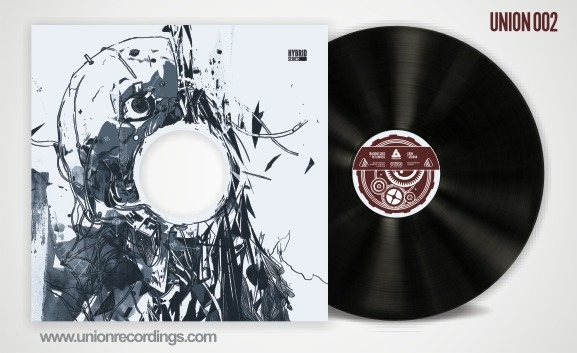 Release date: 14th of February 2011
UNION Recordings proudly presents the Hybrid Seriess – part two.
A: Machine Code – Heisenberg
On the A side you will find "Heisenberg" powerfull track by Machine Code aka Current Value & Dean Rodell which consists of two legendary electronic music producers from Germany. When they get together, they make some of the most innovative and masterpiece sounding music you can ever imagine. Now they are ready to come full force with a brand new super-fresh and unique Machine Code style with Hardcore and Drumandbass elements in tune called "Heisenberg" – this is going to raise heads throughout the scene for sure!!!
B: COOH – Gerdan
Flip it over for side B which contains "Gerdan" made by brilliant Bulgarian producer – COOH. Hypnotizing stabs, industrial hardcore kicks and this amazing destructive snares makes it awesome example of dancefloor devastation. Receiving extensive support worldwide, "Gerdan" is the track that you have heard in every club, from all the top DJ's like a The Panacea, The Outside Agency, Limewax, Switch Technique and many many others.
C: Switch Technique – Cursed Angel Revisited
Then for the C side, exclusive only in digital version UNION002 – Cursed Angel reworked by its owner! Yes this is it what each of you was waiting for a long time! Amazing Hardcore parts and his perfect sound makes that track coming to life again.



Available on 12″ VINYL as well as a digital MP3 release in all good outlets.
For audio clips, more info and news check out the official UNION Recordings
Facebook
page,
Myspace
or
Soundcloud
.
For first press vinyls, We give You totally for free a very exclusive UNION Recordings stickers!
The promotion is valid in all stores selling UNION002.
DO NOT MISS THIS !!!

Tags: COOH, COOH - Gerdan, COOH – Gerdan, Current Value, Dean Rodell, drum n bass, Drumandbass, Hardcore, Hybrid Series, Hybrid Series Part 2, Industrial, Machine Code, Machine Code – Heisenberg, Switch Technique, Switch Technique – Cursed Angel Revisited, Union Recordings, UNION002
Leave a comment