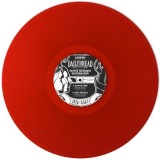 Union Recordings is very proud to announce 3rd and final part of
Dailybread Series. Its not a secret that Switch Technique and Dethmachine
are one fundamental of the crossbreed music. From their first
collaboration on UNION004 many of you waiting for more from this duo. And
here it is UNION008 bring you two collabs what's take crossbread to
another level.
A side burn every dancefloor, their "Black Fire" and this hypnotizing
leeds, industrial hardcore kicks and destructive breaks makes that You
think of that track as one of the most devastating dancefloor stompers
ever!
Flipside contains the equally sick, but totally different "Bog People"
going to be turning heads when it gets dropped on the dancefloor.
Deathmachine & Switch Technique for sure created an absolute monster release!
Limited Edition of Red Vinyls
People who bought this item also bought

Updating...