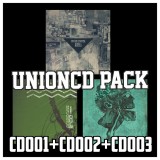 UNION CD PACK
Contains:
UNIONCD001 by Switch Technique 2 x CD (SIGNED BY SWITCH TECHNIQUE)
UNIONCD002 by MNicromakine 2 x CD
UNIONCD003 by Switch Technique 1 x CD
+
DIGITAL DOWNLOAD CODE OF UNIONLP002RMX !
70 tracks! - almost 8 hours of pure Crossbreed, Hardcore and Drumandbass!
People who bought this item also bought

Updating...